Want to achieve a natural stone look without the hassle of a lengthy installation?
The buzz surrounding our Texture wall panels at this year's Clerkenwell Design Week perfectly demonstrated the continual growth in popularity of texture in interior design. Introducing various forms of texture continues to be a popular way of bringing character and visual impact to a space. Whilst incorporating the look of original materials like brick, stone and concrete is one of the most effective ways to do this, opting for imitation texture panels is proving to be the more efficient and cost effective route to take.
With much faster installation times, Texture wall panels can help you get your project completed in no time, meaning you'll see your return on investment sooner!
TEXTURE WALLS WITH REAL IMPACT
At Vtec we have a range of highly versatile brick, concrete, stone and wood panels, designed to bring outstanding visual impact to any project. They are all produced from original walls with exact natural textures and features, containing in excess of 50% natural pigments, oxides and minerals. Available in a variety of styles and finishes, the result is a lightweight yet durable panel system with all the benefits of a real stone wall, plus the extra benefits of being easily adaptable, thin, and even reusable.
MINIMISING DOWNTIME WITH TEXTURE PANELS
Minimising downtime is often essential, especially in commercial projects. One of the main advantages of choosing texture panels over natural stone is the significant difference in installation time. With panels, you avoid all the hassle associated with heavy materials, including difficult handling, messy processes and noisy mixing.
Our Texture panels are simple to install, with no formwork or support work needed, no concrete mixer or wet trades, and no mortar curing time on site. We provide all the support you'll need for your on-site team, which includes easy-to-follow panel layouts to optimise panel usage and maximise efficiency. With an installation process this simple, you could have your new feature wall or ceiling in just 24 hours!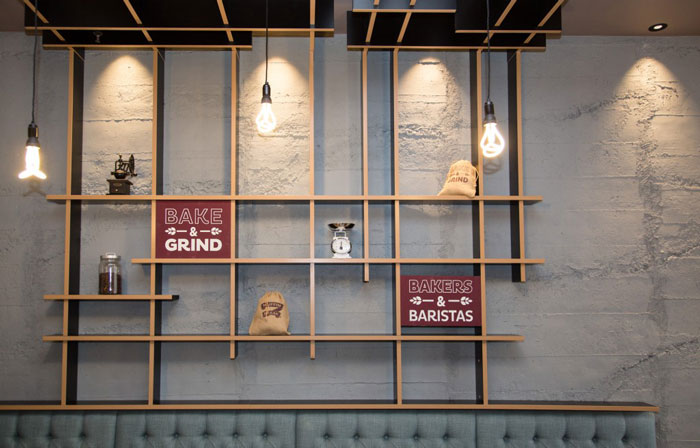 WHERE CAN THEY BE INSTALLED?
Texture wall panelling is ideal for just about any application where there's a requirement to achieve an exceptional surface finish on walls or the ceiling. From hotels to restaurants, retail, offices, food on the go or leisure facilities, a panel system from Vtec is guaranteed to excel in any environment, increasing user satisfaction and footfall.
WHAT ARE MY OPTIONS?
Brick wall panels
Get the look of stylish distressed brick, with none of the hassle of real bricks being installed. Our versatile brick wall panels are designed to adapt to suit a number of different interior styles, from very traditional, cosy spaces, to light and contemporary spaces. You can achieve the highly desirable exposed brick finish in a quick to install, lightweight and compact system. Choose from a range of styles including aged red, distressed white and sandy-brown.
Check out the London brick white panels in action in this quaint French-style patisserie in Covent Garden.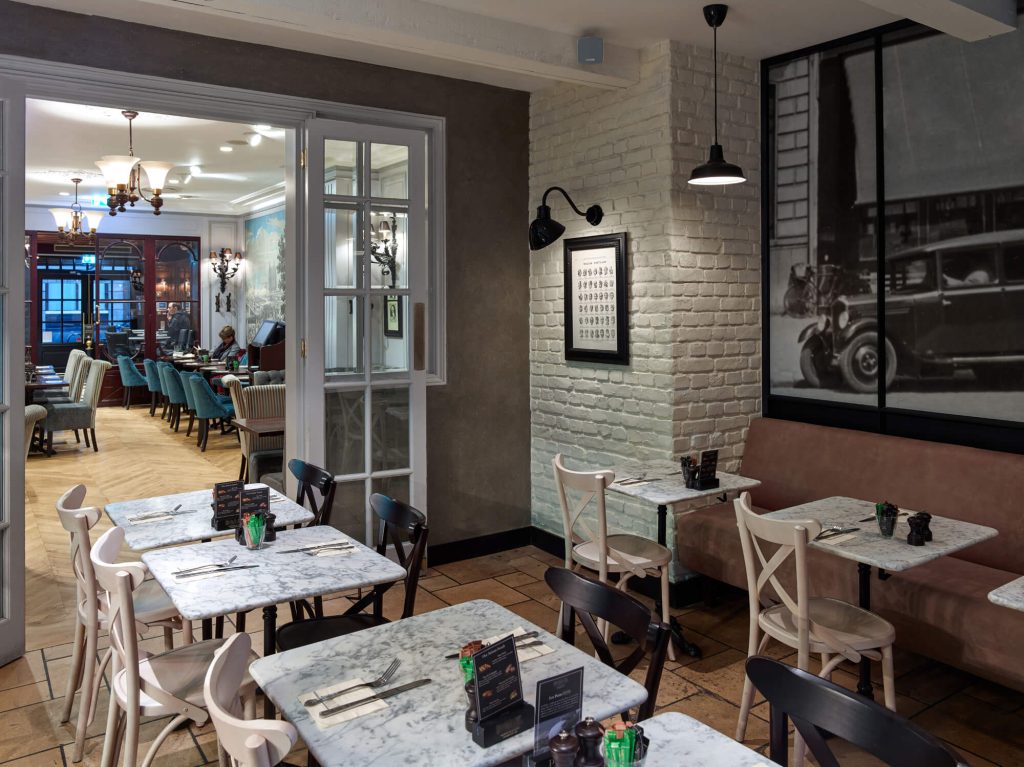 Stone wall panels
The natural, classic appearance of stone walls make them particularly popular in restaurants and hotels, bringing a comforting feel that encourages relaxation and dwell time. The uneven, varying texture of stone wall panels can add real visual interest, and can create a different ambience for each space its installed in, depending on the colour chosen and the placement of lighting. We have a wide range of stone styles; from quarry stone to rough, weathered or distressed stone, you're sure to find the perfect finish for your space.
Check out the strata black panels in action at this restaurant near Tower Bridge.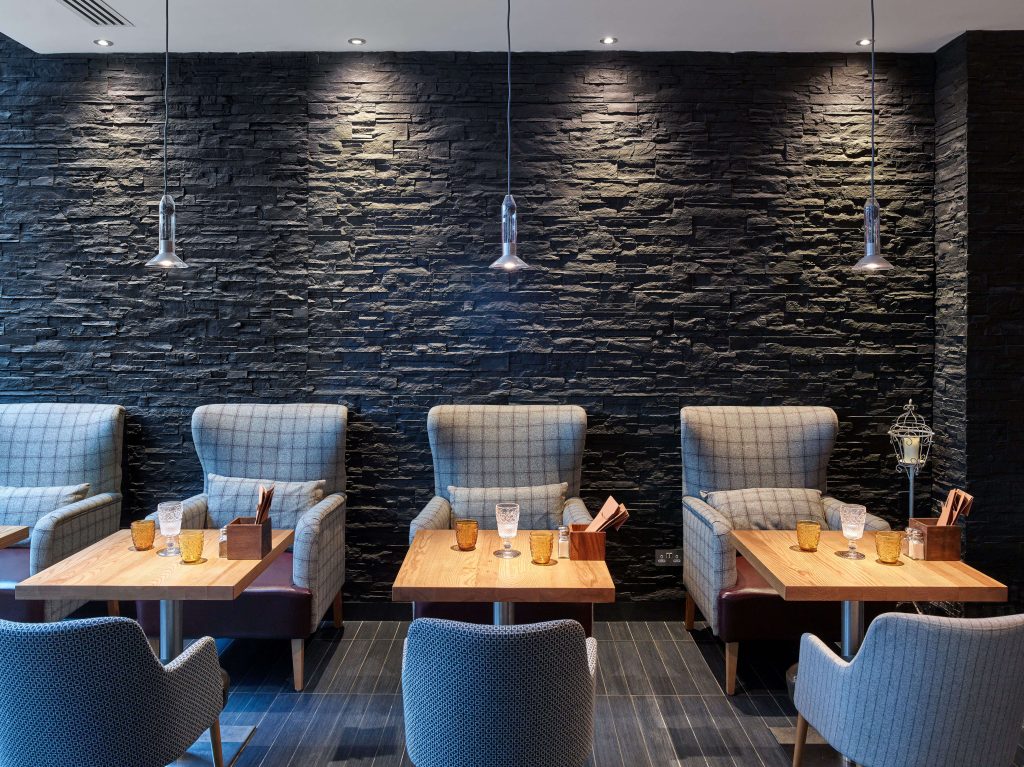 Concrete wall panels
For when you really want to make a bold statement, concrete wall panels are the answer. They are perfect for the current trend towards industrial style interiors, which we are seeing more and more, particularly in casual restaurants and modern office spaces. The contemporary edge really adds an extra splash of style to an interior and works well with signs, artwork, and lighting layered on top. Our concrete panels also come in a range of styles including boarded, rough and modular.
Check out the rough concrete panels in action in this London food outlet.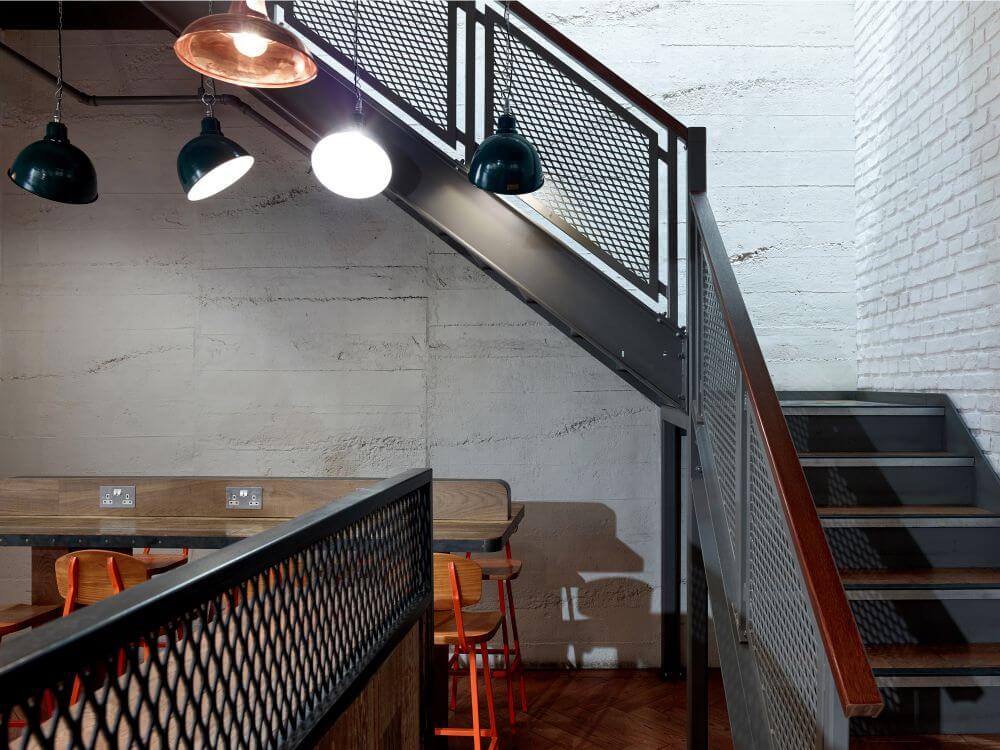 A SUMMARY OF THE BENEFITS OF NATURAL STONE WALL PANELS
Lightweight – no added load on structure
Rapid to install
No formwork or support work needed
No concrete mixer or wet trades needed
Clean installation process
No mortar curing time on site
Thin – doesn't take up floor space
Easily adapted and formed on-site
Adds real 3D texture that retains its impact across the room
Looking to add textural feature walls to your project? Get in touch with our team today at 03307 00 00 30 or email us at info@vtecgroup.co.uk