Made to Measure Slatted Ceilings
Combine the natural charm and warmth of wood with our slatted wall and ceiling systems for a winning partnership of beautiful natural appeal plus rapid installation, including full and easy access to services and acoustic performance where required.
Our SupaSlat range is not your standard 'off the shelf' timber slatted ceiling – it's a complete, flexible system for walls and ceilings so we can work with you to best suit the system to your specification.
Every SupaSlat Project is Different
Here are four bespoke SupaSlat 4 panels ready to be shipped to add the finishing touches to one of our current timber slat ceiling projects. After a full technical drawing, every slat has been cut to precisely the right measurements for the best possible fit and finish on site.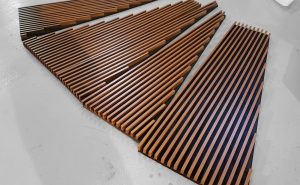 Slatted Timber Panels and Service Integration
Here's some recent SupaSlat 4 panels getting the final production checks before leaving the factory. This particular panel was designed to work with integrated lighting and other services.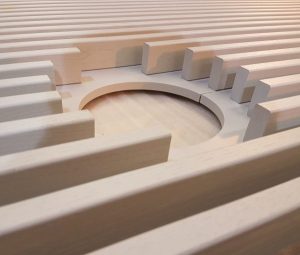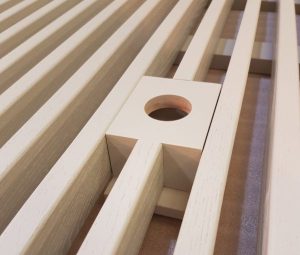 Vtec wall and ceiling panels are supplied fully finished and ready to install, with detailed installation instructions provided, making it as easy and fast as possible for your installers on site. With no on-site cutting, the best quality finish is guaranteed. Panels can be screw-fixed or made to fit into a suspended ceiling grid.
Here are those bespoke SupaSlat panels installed – creating a stunning effect on the ceiling!
SupaSlat Ceiling Installed on site: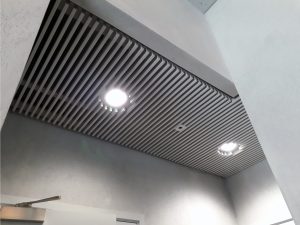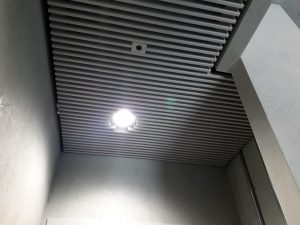 Technical Support with your Slatted Wall or Slatted Ceiling Project
Walls and ceilings can quickly be enhanced with our SupaSlat system to create a beautiful ambience for your interior – with the flexibility to create a variety of moods. With bespoke sizing, finishes and designs, it ensures that our slatted wood panels add visual impact and beauty to give your space its own identity.