Many facets of our lives have changed since the advent of Covid-19, which brings into focus the fact that the requirements of our interior designs are changing too. The trend of homeworking is bound to continue, but certainly office life – in some form – has, too.
It's essential to keep occupants and employees safe but this also creates a huge challenge in how to achieve this whilst minimising the impact on the aesthetics and feel of the space.
Here are 10 ways office design has changed
1. Office workstations
Employers will be considering the proximity of persons within the office, and we anticipate a reduction in the density of the workspaces. Expect to see changes in the physical relationship between desks with space between them increased and angled to users don't face directly towards each other. The current pandemic will change the shape of office furniture too; desks have shrunk over the years to enable maximum use of space but it's highly likely we'll see a reversal of that as well, with screens or higher partitions around them. Additional hard surfaces may require further sound absorption measures to compensate for the negative effect on acoustics.
2. Shift away from open plan
For years, there's been a trend towards open-plan offices to encourage more collaborative working environments. However, Covid-19 is bound to prompt a shift away from this with companies giving employees more room, with a trend to more individual offices and smaller team rooms with the ability to create space between people.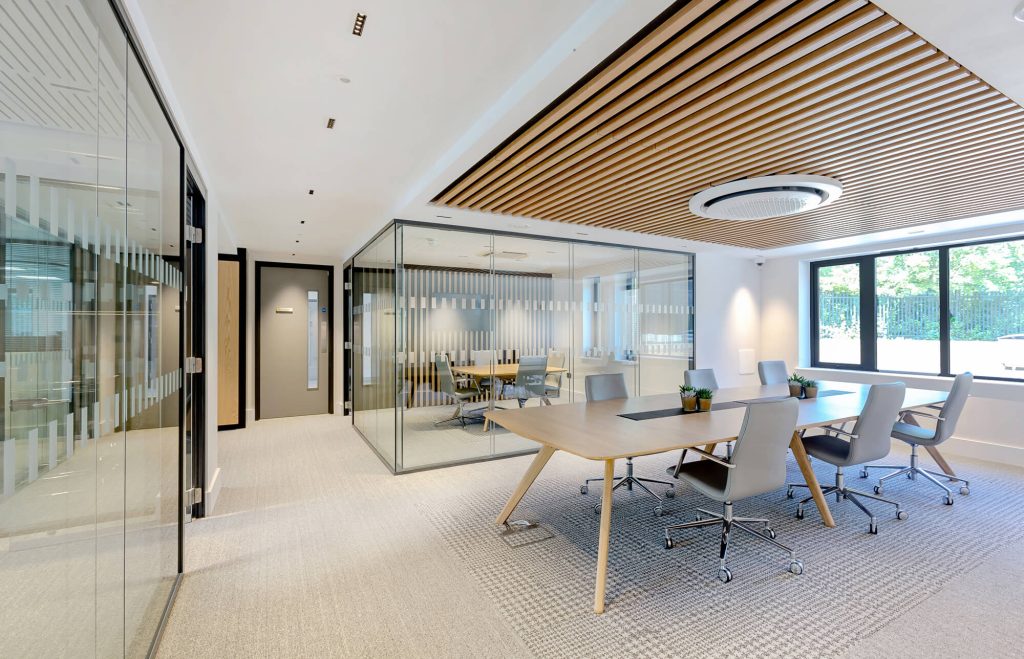 3. Increased zoning
Unless there is some physical measure to ensure social distancing, the risk is that this will not always be upheld. As visually heavy segregation is unlikely to be favoured by those occupying the workspace, we anticipate an increase in the inclusion of MaxiBeam Vertical Screens in this application. Vertical MaxiBeam screens have been used very effectively in offices to create effective zoning and aid traffic flow, without compromising on design or blocking out natural light. This is something that can be brought into existing open plan offices to aid a quick and simple restructure, without the costly and time-consuming need to completely rethink or rebuild.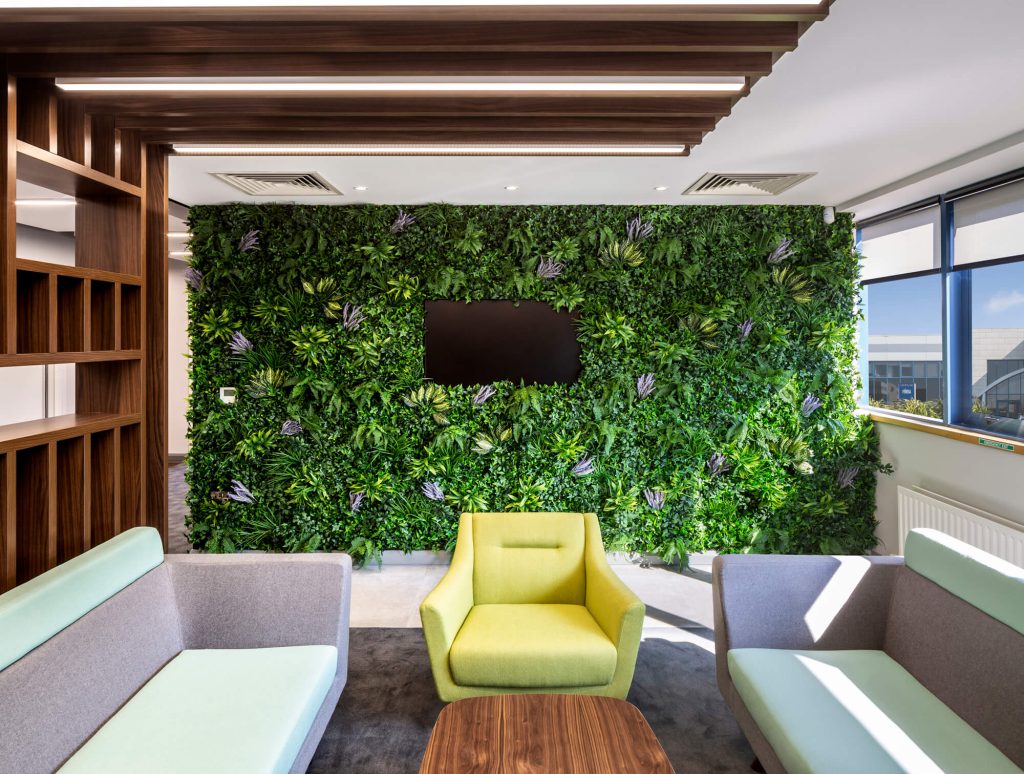 4. Smaller, flexible office space
More companies will consider reducing the size of their office footprint, because of a larger number of people continue to work from home, and a preference to have more locations with fewer occupants at each. We're seeing more informal team meetings (not to mention the rise of the Zoom meeting!) as many companies widely embrace new ways of collaborating. It's likely that we'll rethink meeting spaces – and perhaps a traditional boardroom is no longer needed either? Certainly, any meeting room will need to be designed with social distancing in mind so we may see smaller, more segmented breakout areas and meeting spaces.
5. Co-working spaces
Could the recent boom in co-working companies change post-virus? From a hygiene and transmission perspective, you could argue that this way of working will be less popular. However, these types of workspaces do provide more flexible, short-term leases, reducing the need for investing large amounts of capital into physical space.
6. Rebuild
Given such a drastic lifestyle change, some companies may need to get the builders in, either for a retrofit, or a more radical rebuild. It's likely we'll see wider corridors and doorways, more partitions between departments, and a lot more staircases. Everything previously has been about breaking down barriers between teams, but in the current circumstances physical spaces won't be able to flow into each other so much anymore.
7. Fresh Air & Air Conditioning
With good ventilation being key to preventing the spread of Covid-19, a big trend could be simply opening a window! Most buildings have a tremendous amount of recirculated air so there is likely to be increased investment in office climate control systems. Do make sure your ceiling solution allows effective integration with your air conditioning system, without compromising on the visual impact.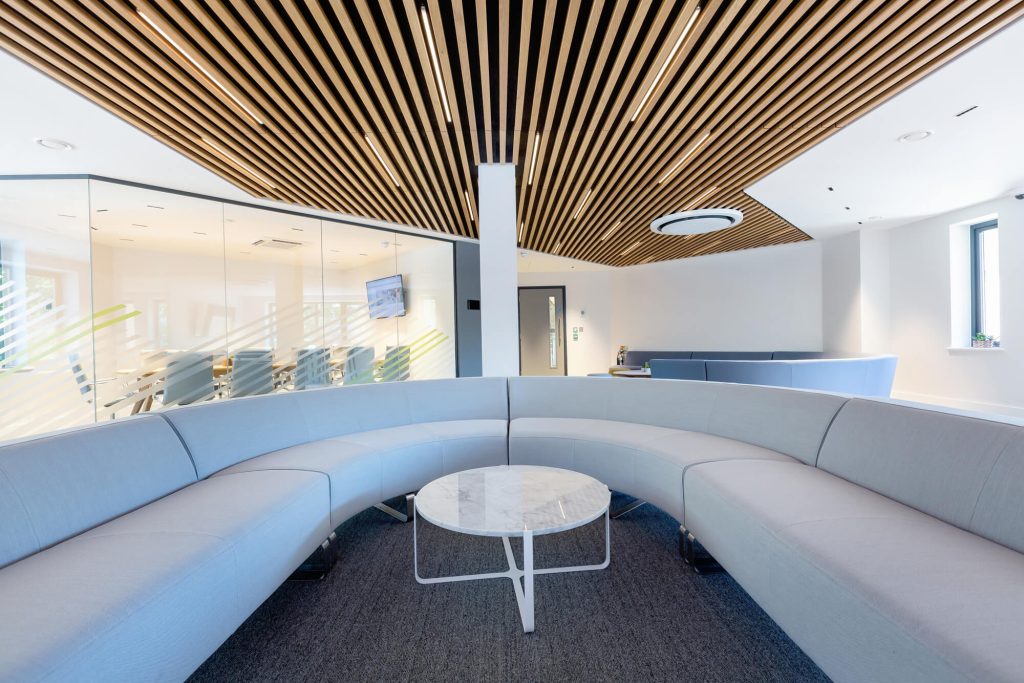 8. Hygienic solutions
There will be an increased need to consider how to keep office spaces and desks clean and we may see new antimicrobial materials and finishes developed. As well as obvious additions such as more hand sanitiser stations, we might see companies adopting a Clear Desk Policy or using 'Desk Defenders' to cover a hot desk area. There may even be a new cleaning or office hygiene standard certification we need to adhere to. The majority of our wall and ceiling finishes can be easily cleaned and we're already working on improved antimicrobial finish options.
9. Increased signage
From queuing lines in reception areas to standing spots in lifts, and from circles around desks to lanes in corridors, the floors and walls of our offices are likely to be covered in visual instructions. One possible approach is to encourage a one-way traffic flow to minimise interaction and transmission – think road markings but for offices…
10. Contactless technology
We're likely to see the role of contactless technologies grow to reduce the need for employees to touch the office building with their hands. For example, automatic opening office doors using motion sensors and facial recognition… to hands-free ordering of lifts and control of the coffee machine by smartphone.
Looking to the future
Whilst we can speculate on general trends in office design, the real detail will of course depend on the post-lockdown environment and specific government guidance. It's clear that workplaces will need to adapt and any new office designs will certainly need to reflect our dramatic lifestyle changes. However, it's not all bad news for employers as it is well known that enhanced environments greatly contribute to increased productivity and less staff turnover, so there is a fantastic opportunity for great interior design to further develop the occupier experience as well as contribute commercially.