You don't have to choose anymore between comfort, safety and aesthetics. Our ACOUSTIC RANGE offers beautiful solutions for integrating services into your design.
As the quality of our lives continues to improve and new technologies become available, designers are faced with the difficult task of adapting design solutions to suit ever-increasing modern expectations.
When we check into a hotel or go to a restaurant, we no longer want just a comfy bed or a tasty meal, and it is no longer acceptable to have deficient lighting and inadequate furniture in an office. We expect the space to be equipped with a temperature control system and adaptable lighting and most importantly, we expect the built environment to be safe.
Ensuring that beautiful design does not compromise functionality, safety or security is not an easy undertaking, and there are a few points to consider from the start of the project to ensure that comfort and safety go hand in hand with aesthetics.
Heating and air-conditioning
In the last few decades, the manufacturers of heating and air conditioning systems have made a big step forward in improving the design and efficacy of the equipment. Gone are the days of chunky, noisy air conditioners and eye-soring radiators offering minimal energy efficiency.
Nowadays, the market offers us almost limitless choices when it comes to heating our homes. We can opt to have anything from stylised freestanding replica radiators to suit a Victorian property, to an underfloor heating that would fit a modern minimalist home.
However, in a commercial environment, the best option by far, is to install a climate control system. This usually involves having a suspended ceiling with strategic openings to allow air circulation.
Designers use various tactics to conceal the unsightly vents – installing a plasterboard floating ceiling with a gap around the perimeter of the room is one such solution which works very well in a smaller room. However, this is not an option that would normally work in a larger, open area.
No need to despair, though. There are other solutions which can work well in larger areas and still deliver aesthetically.
Whether you choose to blend your functional ceiling or make a statement, our ACOUSTIC RANGE offers an abundance of variety.
If you are looking for a more homogenous finish, try our perforated SUPACOUSTIC modular system, which offers hundreds of design options to satisfy even the most exigent clients.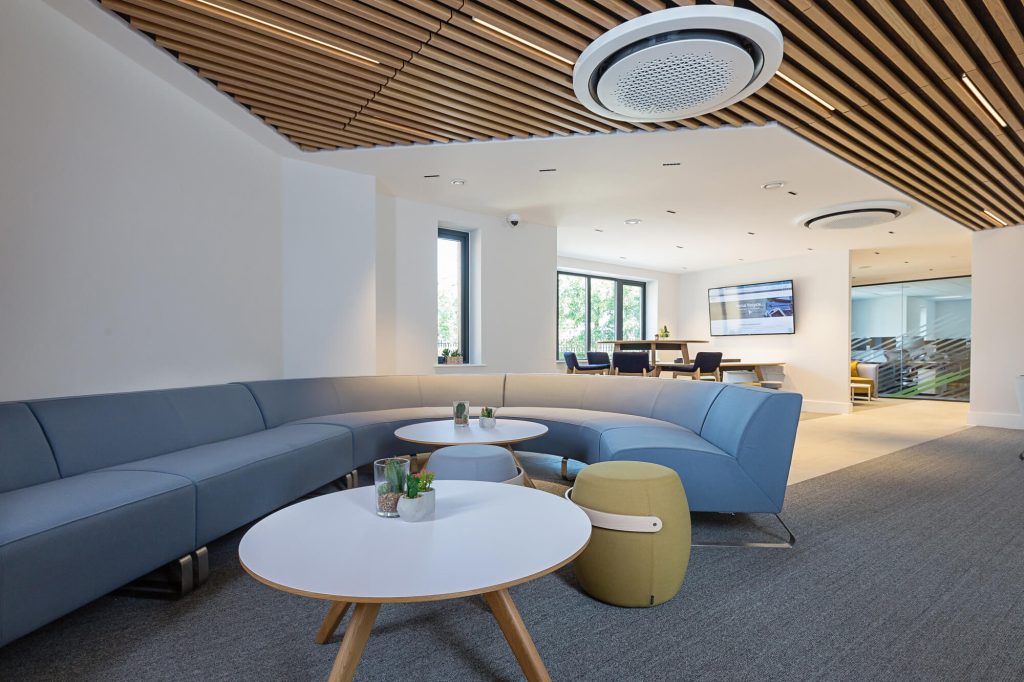 Lighting
Light is perhaps the most important element in any design project, as it impacts us on so many levels, ranging from our mood to productivity.
We all know that natural light is vital for our functioning and well-being. However, going for the biggest windows that you can get away with, is not necessarily the best option, especially when it comes to the office environment. Too much sun can be just as detrimental as too little. Heat and glare from the windows can push us away from certain areas of the office.
Sun-reflective glass can usually help reduce the levels of sunlight coming through the windows and artificial lighting is introduced in the areas which are not lit naturally.
Achieving the right amount of light is not something that's done by an estimated guess. There are recommended guidelines for every type of environment that designers aim to attain in order to ensure maximum comfort.
Once the decision is made on the desired level of lighting, the process of choosing the actual lights can begin. There is, of course, no shortage of options when it comes to the design of lights: surface mounted or integrated, pendant, downlights or strip lights, to name but a few…
Longevity and accessibility can also play an important part in the choices that the designers make. After all, the clients don't want to be left with a beautifully designed space that would command the use of power access equipment and specialised tradesmen every time a light bulb needs to be changed.
LED lights, with much longer life spans and higher lumens output, have revolutionised the industry and encouraged the usage of integrated lighting in high-level ceilings.
Integrated lighting helps to achieve a modern, clatter-free streamlined look, loved and employed in many office or educational environments, as well as in large retail spaces. Clean and simple, integrated lights don't have to be discreet and boring. You can still make a statement with simple strip lights or downlights if you use them creatively.
Our timber-slatted products, such as MAXIBEAM and SUPASLAT can help you turn the most mundane ceiling or wall surface into a truly remarkable element of design. Produced to individual requirements our beams and slatted ceilings create an ideal backdrop for integrated lighting, elevating it to another level.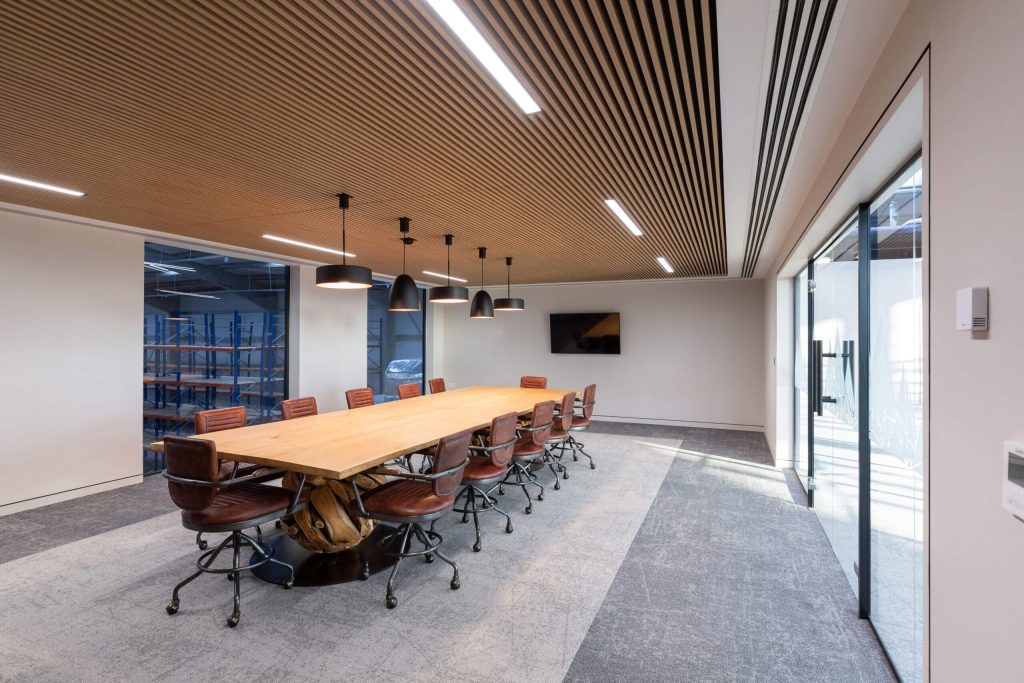 Fire safety solutions
Fire safety devices are often overlooked in the design process and installed once the project is completed… For one reason or the other, the design process hasn't caught up with the fire industry yet and the majority of us learned to live with smoke detectors or sprinklers that are stuck in the middle of a room.
Can interior designers of today address this issue and combine looks and fire safety without compromising one or the other? Absolutely! Health and safety regulations don't have to be designers' nemesis.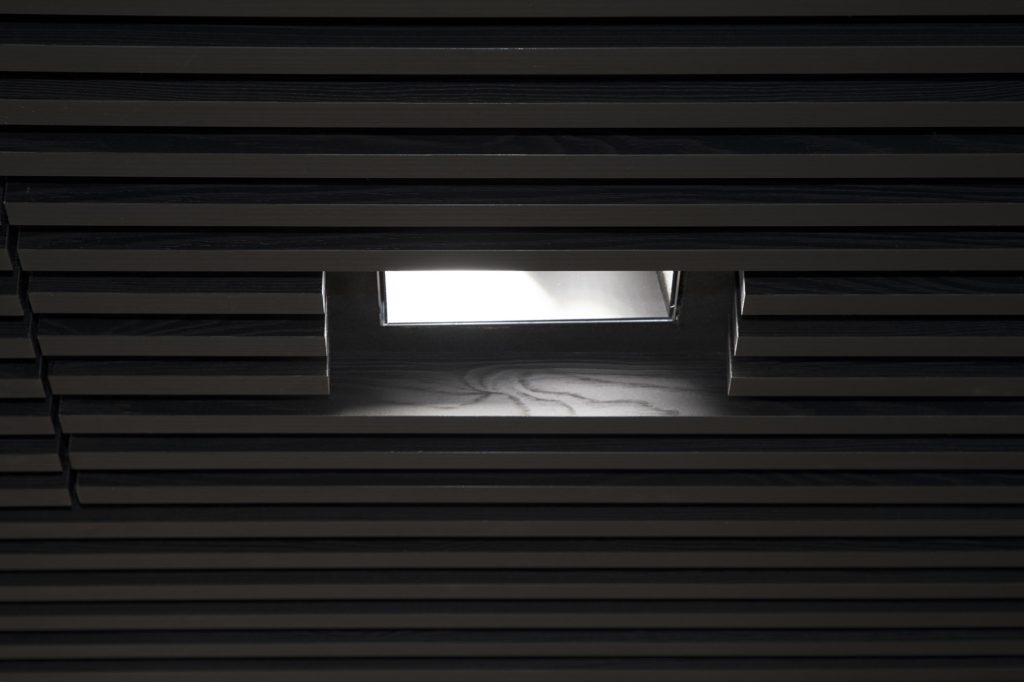 Thinking ahead is the best way to ensure your design is not going to be compromised. Talk to our expert team today to learn more about our product range and how we can add value to your project.
We'd love to help you be the best in what you do. Contact us on 03307 00 00 30 or email us at info@vtecgroup.co.uk