ENHANCING VISITOR ENJOYMENT WITH SUPASLAT
The HQ of a well-loved charity required a feature ceiling for the restaurant area, which needed to have exceptional visual appeal as well as great acoustic capabilities. The Supaslat panel system was chosen for the project, and the selection of walnut finish brings an organic charm to the space.
Supaslat 4 met the various demands and constraints of the project to glorious effect. This lightweight product meant installation was a breeze, being simply attached to the substructure above. Every bay of the roof was different due to the converging dividing rafters, and the added challenge of the intersection of the ceiling plane and the angled walls added a unique twist to the requirements, in fact every one of the several hundred panels created was unique. The flexibility of the system meant it was able to cope with the changing angles at the interface of the walls and ceiling, and the concealed fixings resulted in a neat, elegant solution.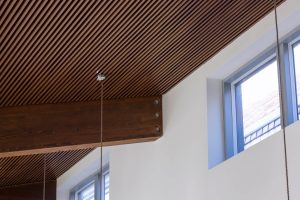 This unique system marries together the natural appeal of timber with rapid installation and excellent integrated acoustic performance. With bespoke sizing, finishes and designs available, this is an extremely versatile product with the ability to create a variety of moods. The panels were also supplied fully finished, completely eliminating the need for on-site cutting and finishing.
With this space being used as a restaurant, it was important to create the right kind of atmosphere for the venue and to create an enjoyable ambience for visitors. The stunning ceiling soars over the entire space, with the sloping panels drawing your eye down to the windows and out across the park to catch the sea view at the bottom of the valley.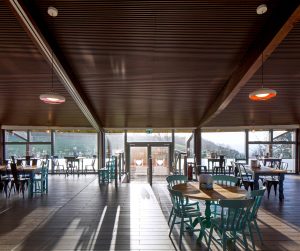 The walnut finish selected ties in with the concept of bringing the feel of outdoors indoors, and the natural habitat of the animals this charity cares for. The wood is interrupted only by the subtle injection of colour through the light fittings and furniture, with the dark finish contrasting beautifully with the light that pours through all the way along the far wall.
The finished feature ceiling is truly a visual spectacle and one that successfully contributes to the warm, welcoming atmosphere of the restaurant. This space will no doubt encourage visitors to extend their visit to the sanctuary and give them an inspiring place to relax and reflect on what they have seen.