How to increase customer footfall in restaurants with interior design
Once you've enticed customers into a restaurant, how do you then get them to stick around and spend more cash? Interior design is a huge part of the overall customer experience, and a carefully designed space can increase the longevity of their visits and leave them wanting to come back for more. We've decided to explore some of the key elements to consider when embarking upon a restaurant opening or renovation project that will increase dwell time.
Providing an experience
People rarely visit a restaurant simply because they need to eat, they're looking for an overall dining experience. Even if you were to serve the best tasting food in the world, if the interior hasn't been designed to enrich the customer's experience they're unlikely to return or recommend the restaurant to a friend. The main aim should be to create a space that is comfortable, welcoming, and designed for ease of use, but also inspiring. Simple aspects such as the positioning of furniture can have a big impact, is it easy to reach the bar? Are the tables too close together? Are you drawing the customer's eye to the right features? All of these questions should be thoughtfully considered, and crucially the selection of wall and ceiling finishes must enhance the mood you are creating.
Brand identity
Injecting personality and identity into your restaurant interior is a great way to make customers stick around for that much longer. You can do this with interesting antiques, decorative pieces such as artwork or sculptures and unique lighting fixtures. Giving customers something to stimulate their minds and draw intrigue will not only enrich their experience but also keep them coming back for more. When choosing such objects keep the brand identity in mind at all times, if the restaurant is going to be serving up modern Asian fusion food, traditional antique English furniture is going to look out of place and poorly considered. You can even incorporate your own logo or sign into the interior. This pizza restaurant had its logo painted onto a brick-look feature wall, promoting its brand from within, creating unity in the interior and resulting in a contemporary look that perfectly matches its culinary offering. Feature walls are great for creating character and impact in an interior as they are often the first thing customers will spot when entering.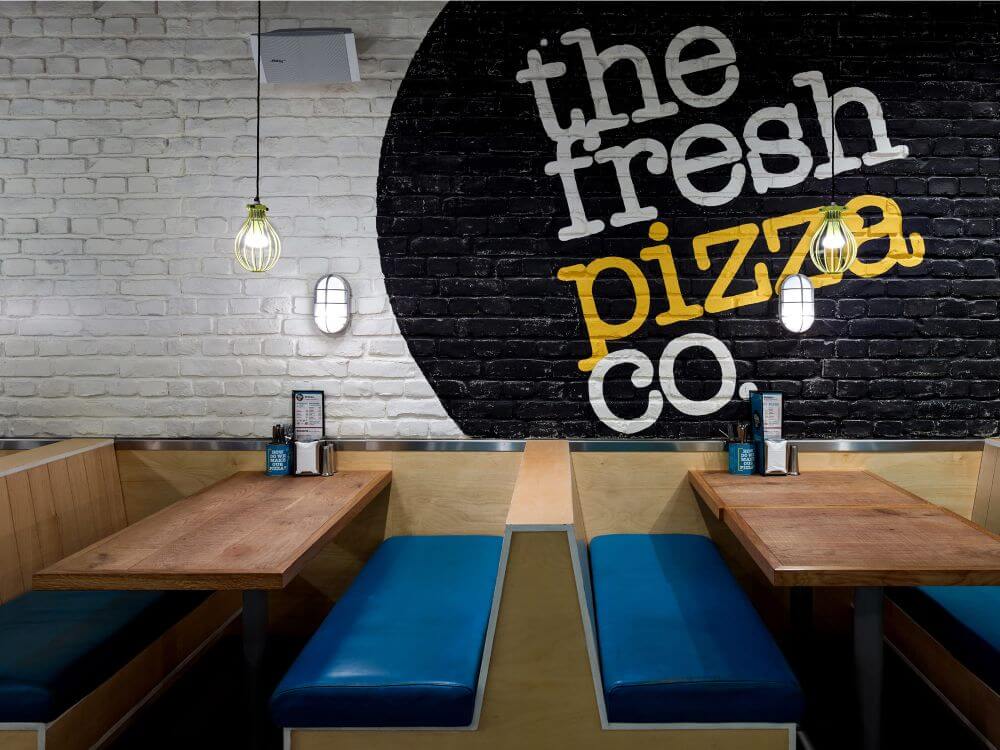 Unique lighting
Lighting can be utilised effectively to control where customers' eyes are drawn to during their visit, whether that be a particularly decorative element or interesting wall, the bar, or even the menu board. Again, the level of lighting chosen can depend on the kind of establishment. In some cases, it may be appropriate for the room to have subtle lighting illuminating the food on the table, in others this may be an annoyance to the customer. The lighting fixtures themselves can be interesting design elements, for example, Archie's Burgers, Shakes and Waffles combined their own neon signs with Vtec's white brick and concrete panel walls for a really eye-catching and fun feature.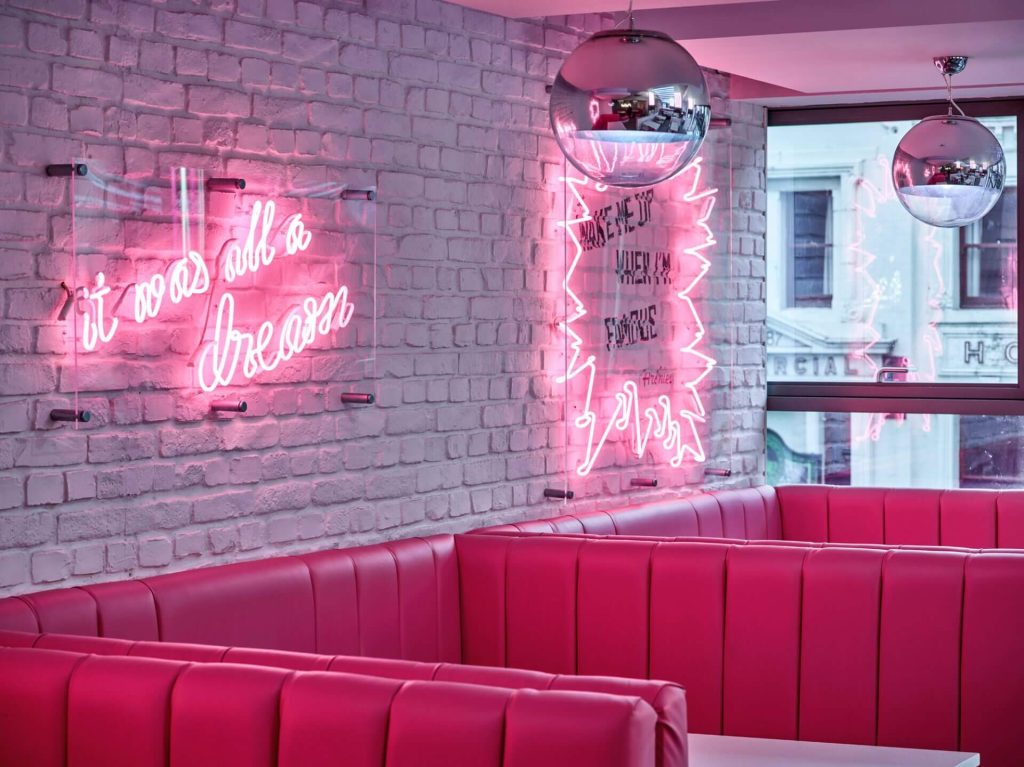 Texture & Movement
In recent years more and more restaurants are incorporating texture into the walls with the use of brick, timber and natural stone excelling at adding that extra touch of charm. Unique panelling can bring texture and detail to otherwise ordinary spaces, instantly adding a touch of authenticity and charm. Varying textures and patterns can break up a space and give a sense of movement.
Acoustics
We have all been to a restaurant and returned home with a headache due to high reverberant noise levels. There is a particularly strong need for a sound absorption solution in restaurants because of the constant rattle of cutlery, scraping chairs, and clinking of glasses and cups. Without a solution in place people are forced to raise their voices to hear one another, which is not a desirable or relaxing atmosphere to eat in. Sound absorbing panels can be installed on the walls and/or ceiling surfaces and there are a number of decorative options so you can incorporate an interesting feature and effective acoustic solution at the same time.
Here at Vtec we believe that great walls in a well-designed space will encourage footfall and customer engagement and consequently your bottom line.
If you've got a restaurant project coming up and would like some advice get in touch with our team today.